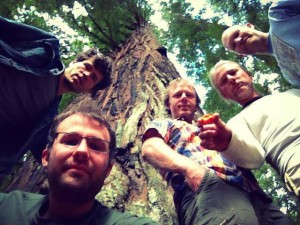 The Bills
$12 tickets   320-255-9811
Tuesday February 18th 7:30pm at BoDiddley's downtown St. Cloud
For tickets call Bo Diddley's downtown St. Cloud location, 320-255-9811 or stop in at 216 6th Ave S, St Cloud, MN 56303
Perhaps to make up for the polar vortex, our neighbors to the north are sending us The Bills, a quintet with ten big ears–and also guitars, violins, mandolin, accordion, bass, and vocal cords. Their music draws on "global roots and rock alongside hints of Chopin, Stan Rogers and Django Reinhardt"–so expect some entertaining musical whiplash, as they shift from folky to countryish to gypsy-jazzy.
"These five guys play 'roots music,' drawing inspiration not only from North American folk music, but European traditions, Latin American rhythms and Romany songs. They cover traditional tunes in their own arrangements, and write brilliant heart-rending ballads. . . . If they were American and played pop, you'd have their names tattooed on you by now."–Lauraine Leblanc, The Arcata Eye
"Their sound is panoramic, mischievious, fiercely unpretentious–and musically splendid"–Boston Globe
http://www.youtube.com/watch?v=2tcvnBzAsqQ
** We do not take reservations—at Bo's – and do not set tickets aside without payment. Seating is assigned according to ticket purchase date for shows at BoDiddley's. Requests taken.
Related show