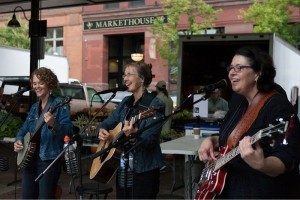 Sweet Rhubarb

$5 at the door
Friday  February 21st   7:30-BoDiddley's-St. Cloud MN
Sweet Rhubarb is based in St. Paul, MN and began in late 2009. Our music has elements of folk, bluegrass, country, pop, and this 'n that… We create rich three part harmonies, write some of our own songs, and add our unique touch to songs written by others.
We are:
Ann Fate: vocals, guitar, banjo, harmonica, percussion
Burna Krugler: vocals, guitar, banjo, bass
Priscilla Thomas: vocals, bass, guitar, harmonica, occasional bad jokes
note from Gary:
We first heard these lovely 3 women when they played at an anniversary celebration a year ago. The night went by way too fast. They are regulars at The Gingko and Trotters and you may have heard that at the Minnesota or Kansas State Fair. They have written a lot of their own stuff but will also cover Kate Wolf and Patty Griffin and the like. The harmonies are tight. You will not be disappointed.
Related show