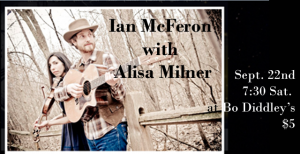 Ian McFeron with Alisa Milner  
Sat, Sept 22        Bo Diddley's           7:30
$5
Another coffeehouse concert with Seattle-based singer-songwriter-guitarist Ian
McFeron and fiddler/cellist/vocalist Alisa Milner. McFeron's songbag draws on "blues, folk, pop, gospel, alt-country, and jazz." Milner comes from the Texas-style fiddling tradition and numbers among her influences Stephane Grappelli, Vassar Clements, and Mark O'Connor.
"These songs were all probably written in cheap hotels in the middle of the night, and history tells us that's where the best ones come from."
–Alan Harrison, Maverick Magazine (UK)
"An alt-folk/rock/Americana performer who strikes a cool balance between the mellow and the edgy." –Jim Beal, San Antonio Express-News
"He is the real deal and isn't faking it." –Charlie Brown, The Music Critic (UK)
Facebook Page:
http://www.facebook.com/IanMcFeronMusic
Website:
http://www.ianmcferon.com/index.php
Tickets are available at Bo Diddley's downtown St. Cloud location,
320-255-9811
We do not take reservations—at Bo's – and do not set tickets aside without payment.
Seating is assigned according to ticket purchase date for shows at Bo Diddley's. Requests taken.
**Our coffeehouse shows feature quality lesser-known artists in a slightly
more informal environment than our main series. Tickets are not sold in
advance, house lights are turned down — not off — and discreet patron
conversation is allowed during the show.
Related show