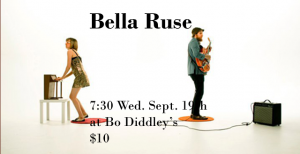 Bella Ruse   
7:30pm Wed, Sept 19      Bo Diddley's
$10
The first concert of our new "coffeehouse series" featuring the Minneapolis duo of singer Kay Gillette and guitarist Joseph Barker. A "combination of airy folk and crunchy pop" played on "a laboratory of instruments–typewriter, suitcase organ, glockenspiel, and kazoos." "Sometimes," says Gillette, "we like to call it Cute Rock." Did we mention that they travel in a van fueled by recycled fryer oil scavenged from restaurants?
"Minimalist folk/indie music. With a sound like a mix between Kate Nash and Regina Spektor, Kay Gillette's voice is truly unique." –Performer Magazine
"Colorful, catchy, folksy Pop with an ethereal glaze and eye-contact directness."
–CityBeat
Our coffeehouse shows feature quality lesser-known artists in a slightly
more informal environment than our main series. Tickets are not sold in
advance, house lights are turned down — not off — and discreet patron
conversation is allowed during the show.
Facebook Page:
Tickets are available at Bo Diddley's downtown St. Cloud location,
320-255-9811
We do not take reservations—at Bo's – and do not set tickets aside without payment.
Seating is assigned according to ticket purchase date for shows at Bo Diddley's. Requests taken.
Related show