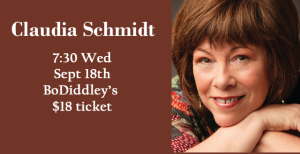 Claudia Schmidt
$18 ticket
Wed Sept 18th  7:30pm at Bo Diddley's Downtown St. Cloud
Claudia Schmidt is a powerful vocalist and adventurous artist, who combines lively folk, jazz and blues with rich poetry and playful humor.
Hailing from Michigan, she knew at a young age that she was destined to be a singer. Performing in numerous choirs throughout her youth, Claudia soon pursued a professional career while in Chicago, leading her to Wisconsin and Minnesota, where she was a frequent guest on the early days of A Prairie Home Companion. More than thirty years and 16 albums later, Claudia continues to perform on the road to her loyal legions of fans across the country. Mixing folk, jazz, traditional ballads and breathtaking originals, there's not a style she can't master.  Claudia 's incredible voice and charismatic stage presence makes her a marvel in concert.
website: http://www.claudiaschmidt.com/

Photos from concert:
To get tickets call Bo Diddley's downtown St. Cloud or stop in. 320-255-9811
Seating is assigned according to ticket purchase date for shows at Bo Diddley's. Requests taken.
Related show