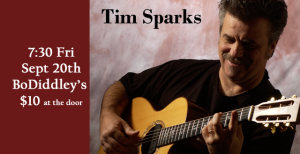 Tim Sparks
$10 at the door
Fri 7:30 Sept 20th –BoDiddley's St Cloud
Tim Sparks' guitar playing ranges from the raggy Piedmont fingerpicking of his North Carolina upbringing through swing and jazz (years with the trio Rio Nido), blues, funk, Brazilian, Balkan, klezmer, and solo-guitar arrangements of classical orchestral pieces (notably the entire Nutcracker Suite). He has played oud with middle eastern groups and toured with Dolly Parton (without oud). Minnesota is home to many first-rate, national-level guitarists, and Tim is remarkable even in that company.
"An amazing technician with elements of guitarists Leo Kottke, John Fahey, Lenny Breau, Andres Segovia and Doc Watson, Sparks stands alone in his ability to arrange and abstract worldly elements into a cohesive guitar-based approach."–Eliot Simon All About Jazz New York
Tim's arrangement of "I'll Fly Away":
website:  http://www.timsparks.com/index.html
For more information call Bo Diddley's downtown St. Cloud location,
320-255-9811
Payment taken at the door the night of the concert.
Related show