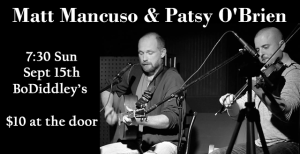 Matt Mancuso and Patsy O'Brien
$10 at the door
Sun 7:30 Sept 15th –BoDiddley's St Cloud
Fiddler Matt Mancuso and singer-songwriter-guitarist Patsy O'Brian have worked together in the Cathie Ryan Band. Separately, Matt has been featured fiddler in the "Lord of the Dance" ensemble and played in the Mickey Finns and the Irish supergroup Grada, while Patsy has toured with fiddler Eileen Ivers and piping legend Paddy Keenan. Tonight they plays for us as a duo.
"An open, warm and welcoming introduction to a masterclass in fiddle, guitar, songcraft and the reworking of standards […] there's real musical intelligence at work here."–Tom Lynch, Free World Music
"Matt Mancuso is a musician of great musical scope. His Irish and jazz influences make him a unique player in the world music scene."–New York Celtic Music
"Like a good wine, guitarist and singer/songwriter Patsy O'Brien has let his musicianship flourish . . .  throaty vocals, languid guitar."–Irish Times
facebook:  https://www.facebook.com/MattMancusoandPatsyOBrien
For more information call Bo Diddley's downtown St. Cloud location,
320-255-9811
Payment taken at the door the night of the concert.
Related show