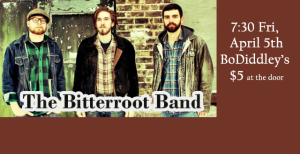 The Bitterroot Band
$5 at the door
7:30 Friday April 5th at BoDiddley's
Mankato's Bitterroot Band calls its music "Front Porch Americana" and finds inspiration in country, bluegrass, honkytonk, the Great Folk Scare, Woody Guthrie, Bob Dylan, Tom Waits, Johnny Cash, and other rootsy and raucous sounds. The trio's sound features guitar, banjo, bass, percussive noisemakers, the occasional kazoo, and lots of energetic singing.
"Stubble-chinned, on-the-rocks folk and blues dressed in bluegrass flannel"–Tanner Kent, Mankato Free Press
website: https://www.facebook.com/thebitterrootband
youtube: http://youtu.be/PxealhrCX_w
For more information call Bo Diddley's downtown St. Cloud location,
320-255-9811
Payment taken at the door the night of the concert.
Related show