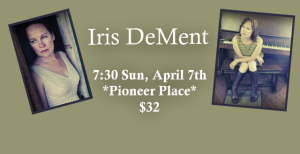 Iris DeMent
$32
Sun. April 7th 2013      7:30pm at Pioneer Place on 5th
Iris DeMent is another of the big names in the singer-songwriter world–Merle Haggard called her "the best singer I've ever heard," and she has performed and recorded with Haggard, John Prine, Ralph Stanley, Steve Earle, and Emmylou Harris. Her songs have turned up on movie and TV soundtracks (Northern Exposure, Little Buddha, Songcatcher, the Coen brothers' True Grit) and on the set lists and recordings of admiring colleagues.
"She not only nails the sights, sounds, and smells [of the South] with her vivid descriptions, but she also imbues the characters in her songs with emotions that feel honest and hard-earned, partly because you get the feeling that she knows them all so well."–American Songwriter
 "Dement's distinctive, vibrato-infused drawling voice soars and soothes."–The Telegraph (UK)
 "Iris's songs talk about isolated memories of life, love and living."–John Prine
Tickets on sale at the Pioneer Place box office, or call (320)203-1233
203-0331 or buy on-line at www.ppfive.com.
Website:  http://www.irisdement.com/
Facebook: http://www.facebook.com/irisdementofficial?ref=ts&fref=ts
YouTube: http://youtu.be/FikZwgj89HI
Related show