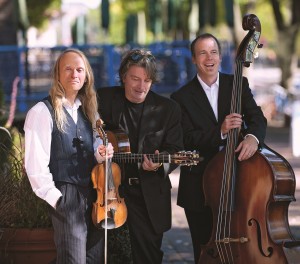 Sidewalk Café
$16 tickets
Fri Dec. 20th 7:30- BoDiddley's-St. Cloud MN
Sidewalk Café–St. Cloud native Reynold Philipsek (guitar), Gary Schulte (violin), and Jeff Brueske (bass)–finds its inspiration in the music of the Parisian boulevards and bistros, especially in the gypsy jazz of Django Reinhardt and Stephane Grappelli. Expect selections from the Great American Songbook, French dancehall favorites, some band originals, and a lot of sweet, hot, swinging playing. And with any luck Reyonld will sing a song or two.
"Sidewalk Cafe is a hard-swinging group that plays with bravado and passion that transcends the genre and captures its fundamental appeal and excitement." –Jeremy Walker of the Dakota Jazz Club
To get tickets call Bo Diddley's downtown St. Cloud or stop in. 320-255-9811
Seating is assigned according to ticket purchase date for shows at Bo Diddley's. Requests taken.
Related show