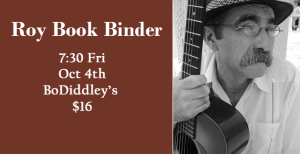 Roy Book Binder
with Tom Feldmann opening
$16
Fri. Oct. 4th 2013  7:30pm at Bo Diddley's Downtown St. Cloud
Long-time proponent of the rootsiest of American roots musics, Roy Book Binder counts among his inspirations and mentors two of the great old-time bluesmen-songsters, Rev. Gary Davis and Pink Anderson. Roy has been touring, recording, and teaching for more than forty years and has shared the stage with the likes of Arthur "Big Boy" Crudup, Homesick James, Sonny Terry, Doc Watson, Jorma Kaukonnen, Bonnie Raitt, and too many other artists to fit in this space. He's more than a preservationist–he's part of a living tradition.
"Book Binder is one of the few revivalists whose mastery of the elegant East Coast blues style transcends the technical to embrace the form's vision."–Peter R. Aschoff, Living Blues
An "entertaining hybrid of folklorist, comedian, blues singer, storyteller and virtuoso guitar picker."–Sydney Morning Herald
"With his laid-back vocals and strong slide guitar, Roy Book Binder sometimes evokes J.J. Cale, or Dire Straits' early, acoustic songs. But Book Binder's inspirations go way back. . . . a genuine example of the traveling-bluesman tradition that began in the '20 s, was revived in the '60s, and continues today."–Steve Cheseborough, Living Blues
To get tickets call Bo Diddley's downtown St. Cloud or stop in. 320-255-9811
Seating is assigned according to ticket purchase date for shows at Bo Diddley's. Requests taken.
Related show