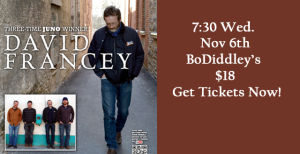 David Francey Band
$18
7:30 Wed Nov 6th  BoDiddley's  St. Cloud MN
David Francey makes a welcome return visit to Bo Diddley's, this time with a band. David's songwriting reflects his family's emigration from Scotland to Canada, his blue-collar work history, and always his sharp and compassionate vision of life as it is lived. His work has won (among other prizes) three Juno Awards, the USA Songwriting Competition Folk Category, and a John Lennon Songwriting Award.
"He's like those Texas songwriters, the Guy Clarks and Van Zandts and such, who take life and set it to music, in such plain but perfect language. Oh, and it rhymes. And it's catchy.Each song is a bit of common sense philosophy, mixed with a tiny bit of sadness and a lot of love."–CBC New Brunswick
"Words of eloquence, beauty .and charm, hung on a jewel of a voice."–Kieran Kane
"David Francey is the best Canadian folk writer that I have heard in 20 years. I think that he is going to be a voice in this country for a long time and that his songs will be sung by my great, great, great grandchildren."–James Keelaghan
 To get tickets call Bo Diddley's downtown St. Cloud or stop in. 320-255-9811
Seating is assigned according to ticket purchase date for shows at Bo Diddley's. Requests taken.
Website:  http://www.davidfrancey.com/