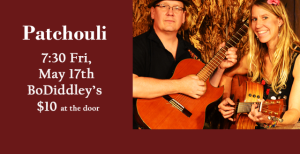 Patchouli
$10 at the door
7:30 Fri May 17th at BoDiddley's
Nationally touring, award winning songwriter Julie Patchouli and master guitarist Bruce Hecksel light up the air with sparkling acoustic sounds and their powerful contagious chemistry. Famous for that smiling voice that instantly turns a bad day into a good one, Patchouli's down-to-earth, hopeful songwriting is "New American Folk" blending elements of folk, pop, flamenco and jazz with world beat rhythms. Patchouli's sound has been described as "the harmonies of Simon & Garfunkel meet the guitar brilliance of the Gipsy Kings.
14 years of non-stop touring has honed this classically trained duo into legendary performers, dubbed "the hardest working folk duo in America". Having just released their 15th CD Terra Guitarra, Dragonfly in winter of 2012 and a new Patchouli Cd releasing Jan 2013, Patchouli is as busy in the studio as they are on the road, with 12 albums featuring their very own brand of original modern folk music and 4 CD's under the name Terra Guitarra for their all instrumental Spanish style guitar project, including a holiday music CD Winter Solstice.
Patchouli represents the very top echelon of today's acoustic performers, bringing the highest level of skill together with the passion, experience and joy that are a rare combination indeed.
"Patchouli live is amazing. I compare it to taking a yoga class in a field of running mustangs."
     – City Pages
website: http://www.patchouli.net/
youtube: https://www.youtube.com/watch?v=9nf_enPQlqA
For more information call Bo Diddley's downtown St. Cloud location,
320-255-9811
Payment taken at the door the night of the concert.
Related show