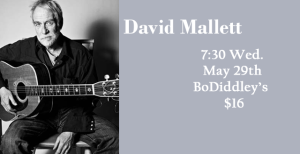 David Mallett
$18 at the door
7:30 Wed May 29th at BoDiddley's
Singer-songwriter, David Mallett, is one of America's true original troubadours.
In a career spanning four decades, he has recorded 14 albums, had several hundred covers of his songs, including the American folk classic Garden Song [Inch by Inch, Row by Row] and performed in clubs, concert halls and festivals across the US, Canada and Europe. He has appeared on numerous broadcasts, including National Public Radio's A Prairie Home Companion. Known for his carefully written, poetic offerings, his body of work has provided material for an eclectic list of artists that includes Alison Krauss, Pete Seeger, Hal Ketchum, Emmylou Harris, John Denver and the Muppets.
Yes, David Mallet has proven that once again it really is all about the music. There is no doubt that he has left an unfading imprint on Music City and Classic Americana Music forever. – Jan Duke, Aboutnashville.com
He harks back to the earnest ambitions and heartfelt melodies of Willie Nelson and Johnny Cash, singing with the conviction that folk can still be heroic. – The New York Times
Like Maine lobsters, smooth Kentucky bourbon and 57 Thunderbirds, Mallett proved himself to be a true American treasure. – Richmond Times Dispatch
Songs about real places and real times. This man is at the dead center of country music. Well at least my idea of it. – County Music People, London
This is a Main Stage performance
Website: http://davidmallett.com/
Facebook: http://www.facebook.com/pages/David-Mallett/43762629366
YouTube: https://www.youtube.com/watch?v=2m0LewjkO4s
For tickets call Bo Diddley's downtown St. Cloud location,
320-255-9811 or stop in at 216 6th Ave S, St Cloud, MN 56303
** We do not take reservations—at Bo's – and do not set tickets aside without payment.
Seating is assigned according to ticket purchase date for shows at Bo Diddley's. Requests taken.
Related show