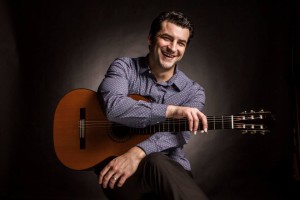 Matthew Cochran

$5 at the door
Friday March 7th 7:30-BoDiddley's-St. Cloud MN
Matthew Cochran says, "I  write, I sing, I play guitar. My music is a mixture of folksong, bluegrass, singer-songwriter, film score, all jumbled up and filtered through classical conservatory training." He also reports that he's as likely to play Bach as Paul Westerberg, but one suspects he's also going to do some of his original songs from his new album for us. Unless he decides to throw in a show-tune arrangement or a piece of Americana like "Shenandoah." One hopes to be surprised.
http://matthewcochranguitar.com/
http://www.youtube.com/watch?v=TTd9RZUbTKw
This is part of the Five & Dime Series and so we do not sell tickets in advance.
For more information call Bo Diddley's downtown St. Cloud location,
320-255-9811
Related show