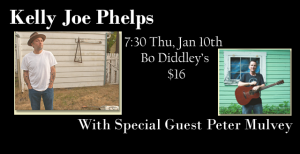 Kelly Joe Phelps with special guest Peter Mulvey
7:30pm  Thur Jan 10th  2013  Bo Diddley's
$16
Kelly Joe Phelps' guitar playing recalls the slide work of Fred. McDowell and Robert Pete Williams, the fingerpicking of John Hurt and Rev. Gary Davis, and the folk-revival work of John Fahey and Leo Kottke. As a sideman, he has backed Rory Block, Martin Simpson, Greg Brown, Tim O'Brien, Tony Furtado, and Bo Ramsey. As a soloist and composer, he has produced eleven albums of his own, most recently "Brother Sinner and the Whale," a collection of intensely personal songs that take off from the Biblical story of Jonah and "recall the vintage gospel blues of the Mississippi John Hurt variety with aspects of the Monroe Brothers thrown in for good measure." (Douglas Heselgrave, No Depression)
Special guest Peter Mulvey's songbag is stuffed with elegant, guitar-driven originals, but he also has a soft spot for classic American standards and their modern descendants: from Gershwin, Hoagy Charmichale, and Cole Porter to Randy Newman, Paul Simon, Tom Waits, and Paul Cebar, with side trips to the lands of Willie Nelson and Prince. Acoustic Guitar magazine calls him "poetic and hip." Who could ask for anything more?
"Phelps writes snapshot vignettes born of short-story traditions and delivers them in sturdy acoustic settings drawn from folk, free jazz, and country blues."–Russel Hall, No Depression
"Phelps speaks directly to your soul. If that isn't the stuff of legends, I don't know what is."-Alan Ranta, PopMatters
"Authentic. Assured. Potent."-Fred Kratis, Minor 7th
"Mulvey spins out a rhythmically intriguing cascade of images and thoughts, influenced by poetry and spoken word. At his best, Mulvey's like some Tin Pan Alley wit gone beatnik."–Boston Herald
"[Mulvey is] a phenomenal performer with huge energy, a quick-fire, quirky take on life, and an extraordinary guitar style."—Irish Times
"Peter Mulvey is all substance, which is his style."- Boston Globe
Website:
http://www.kellyjoephelps.net/news/index.htm
Facebook:
http://www.facebook.com/KJPhelps12
For more information call Bo Diddley's downtown St. Cloud location,
320-255-9811
We do not take reservations—at Bo's – and do not set tickets aside without payment.
Seating is assigned according to ticket purchase date for shows at Bo Diddley's. Requests taken.
Related show