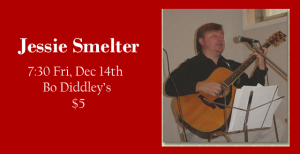 Jessie Smelter
Fri, Dec 14            7:30       $5
Singer-songwriter-guitarist Jessie Smelter calls himself "a wordsmith and storyteller" and writes that he has been "shaped by musical influences ranging from gospel, country, and bluegrass to folk and rock and roll" He has produced two albums of original songs.
"Jessie Smelter's work is beautiful in its simplicity, and incredibly endearing." —Deneen Gannon, Cake Magazine
Website: www.capturedmuse.com
For more information call Bo Diddley's downtown St. Cloud location,
320-255-9811
This is part of the Five & Dime Series and tickets are not sold in advance.  Show up the night of the show, seating is by arrival.
Related show