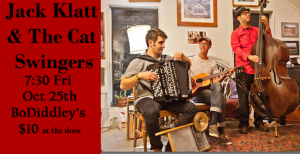 Jack Klatt & The Cat Swingers
$10 at the door
Fri Oct 25th  7:30pm at Bo Diddley's Downtown St. Cloud
This combo is fun–eclectic, retro, funky, dancey, swingy, bluesy, jazzy fun. Klatt sings and plays guitar, backed by the Cat Swingers on uke, bass, and squeezebox. Jack & Company have recorded with Charlie Parr, Dakota Dave Hull, Cornbread Harris, and Spider John Koerner, so both their folk-world and Minnesota credentials are first-rate and up-to-date.
"Jack Klatt may be living in the wrong century.  . . .His sophomore album, 'Mississippi Roll,' resonates with glorious blues, rags, jazz and hokum from bygone times.  Klatt not only brings them back to life, but he makes at least some sense of the modern world by gazing through this age-old vision."–Michael Dregni, Vintage Guitar Magazine
"If you ever wanted a John Steinbeck character to crawl from his novel and take up the life of a traveling musician, then Jack Klatt is your man."–Sound and Tonic
For more information call Bo Diddley's downtown St. Cloud location
320-255-9811
Related show