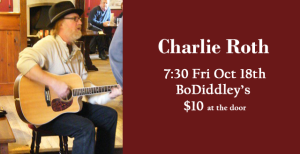 Charlie Roth
7:30pm Fri, Oct 18th Bo Diddley's
$10 at the door
Americana, Folk, Blues, Country, Celtic, Charlie Roth is a unique blend of all these genres. What Charlie is best at is telling a story with his rich baritone vocal, acoustic guitar, rack harmonica, and foot percussion. His fifth album 'Broken Ground' reached up to #6 on the Euro Americana charts and continues to get air play all over the world. He has recorded with the likes of Sam Bush, Michael Bland and other American legends. A consummate showman, an entertainer with countless gigs under his belt, Charlie has mastered the art of playing and singing from his heart, exuding the sheer joy of making great music which can be felt by everyone who is connected to that magical and medicinal spiritual grace.
"Story telling of the highest order, Charlie Roth is a name to remember" Ralph McLean show BBC in Northern Ireland
"His singing style and his narrative art are a perfect blend of words and meaningful lyrics" Valsem, Rootstime Netherlands
"He has an honesty to his voice, a been-there, lived-it nous that lends his tales credibility and raises his music up a notch or three"  Americana UK on Charlie Roth http://www.americana-uk.com/reviews-cd-live/latest-cd-reviews/item/charlie-roth
A prolific songwriter in his own write, Charlie has also been a great interpreter of other writer's work putting his unique stamp on everything he sings and plays. Highly influenced as a young man with great wordsmiths and the storytellers of the day, you can hear in his original works shades of fellow Minnesotan Bob Dylan, John Prine, Townes Van Zant, Leon Redbone, David Bromberg, Jesse Winchester, Greg Brown, Jerry Jeff Walker, and Waylon Jennings to name a few. Today Charlie has found his own voice and continues to grow as an artist finding inspiration, influencing, and being influenced by his contemporaries.
For more information call Bo Diddley's downtown St. Cloud location,
320-255-9811
Related show