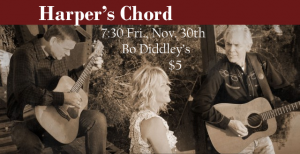 Harper's Chord
7:30pm Fri, Nov 30th Bo Diddley's
$5
Last year, a trio of veteran central Minnesota musicians—singer Jill Moore and guitarists Paul Drinkwine and Roger Fink—came together to form Harper's Chord. We hosted a celebratory concert for their initial CD, "Natural Bridge," in March and are happy to welcome them back to Bo Diddley's for another evening of country-folk-grassroots-Americana.
This is part of the Five & Dime Series and so we do not sell tickets in advance.
Website:
http://www.harperschord.com/
Facebook:
http://www.facebook.com/HarpersChord
For more information call Bo Diddley's downtown St. Cloud location,
320-255-9811
We do not take reservations—at Bo's – and do not set tickets aside without payment.
Seating is assigned according to ticket purchase date for shows at Bo Diddley's. Requests taken.
Related show