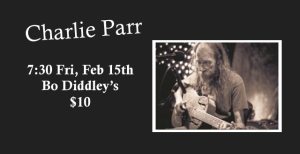 Charlie Parr
SOLD OUT  $10
Friday February 15th   7:30pm at Bo Diddley's Downtown St. Cloud
Charlie Parr was raised in Austin, Minnesota and lives in Duluth, but he draws his musical inspiration from farther south and west: from Mance Lipscomb, Charley Patton, Lightnin' Hopkins, Woody Guthrie, Leadbelly, Bukka White, Gary Davis, Dave Van Ronk, and Dock Boggs, among others. Charlie plays a range of traditional and rootsy original tunes on twelve-string and National Resophonic guitars and banjo. And when he's on the road, he cooks his lunch on the exhaust manifold of his van. Those two facts should tell you why you should come out and hear him.
 "Sometimes it feels like Charlie Parr is already dead. Maybe it's because his recordings sound older than dirt and twice as gritty, or it could be his intrinsic obsession with mortality. Maybe it's because his music is just plain haunting."–Jed Nussbaum
This is a Main Stage performance
Website: http://www.charlieparr.com/
Facebook: CharlieParrMusic
YouTube: Charlie Parr
For tickets call Bo Diddley's downtown St. Cloud location,
320-255-9811 or stop in at 216 6th Ave S, St Cloud, MN 56303
** We do not take reservations—at Bo's – and do not set tickets aside without payment.
Seating is assigned according to ticket purchase date for shows at Bo Diddley's. Requests taken.
Related show