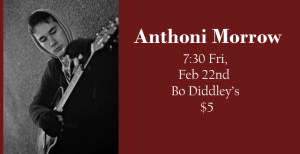 Anthoni Morrow
$5
7:30 Friday Feb. 22nd at Bo Diddley's
Anthoni Morrow is a young, independent musician who writes music in an indie-alternative style. He is driven to reflect his thoughts for people to understand through music. He loves exploring the easy-to-hum, simplistic styles of musical composition, but also enjoys expanding that style. His musical inspirations include Damien Rice, Ed Sheeran, and Mumford and Sons.
This is part of the Five & Dime Series and so we do not sell tickets in advance.
Website: http://anthonimorrow.snappages.com/
Facebook: http://www.facebook.com/AnthoniMorrow?sk=app_2405167945#!/AnthoniMorrow
YouTube: http://www.youtube.com/watch?v=0M-XSQWvDgA&feature=share&list=PL_EHeG_2GcxF0uy9BJufok5TZBavVwvvQ
Twitter:  https://twitter.com/ZeGreatHubert
ReverbNation:http://www.reverbnation.com/anthonimorrow
For more information call Bo Diddley's downtown St. Cloud location,
320-255-9811
Payment taken at the door the night of the concert.
Related show